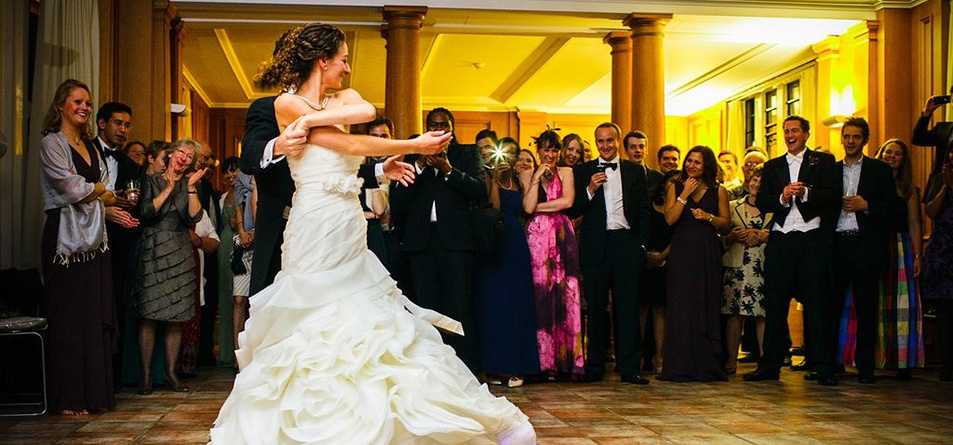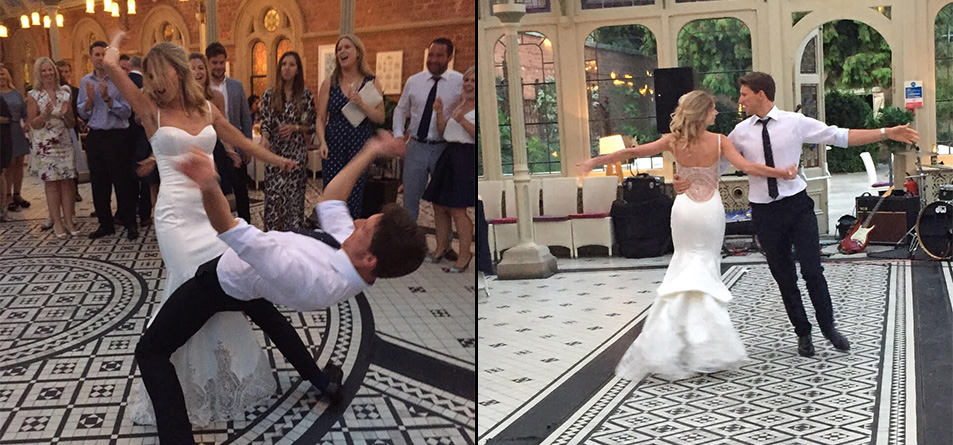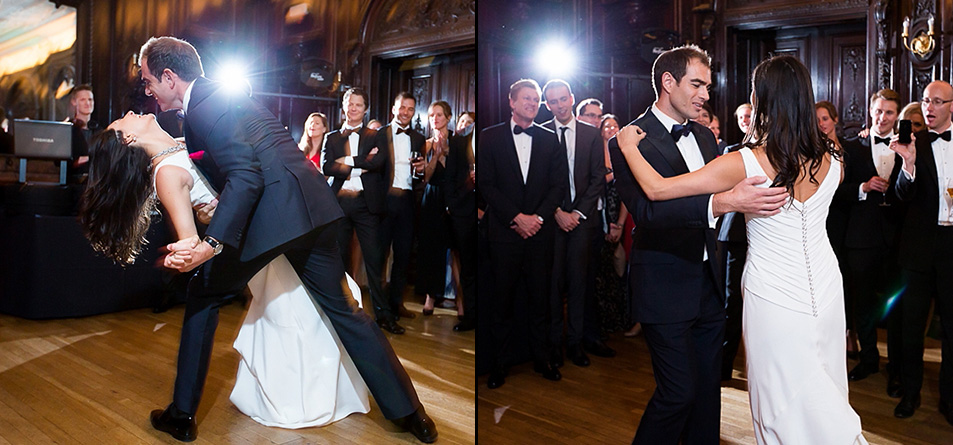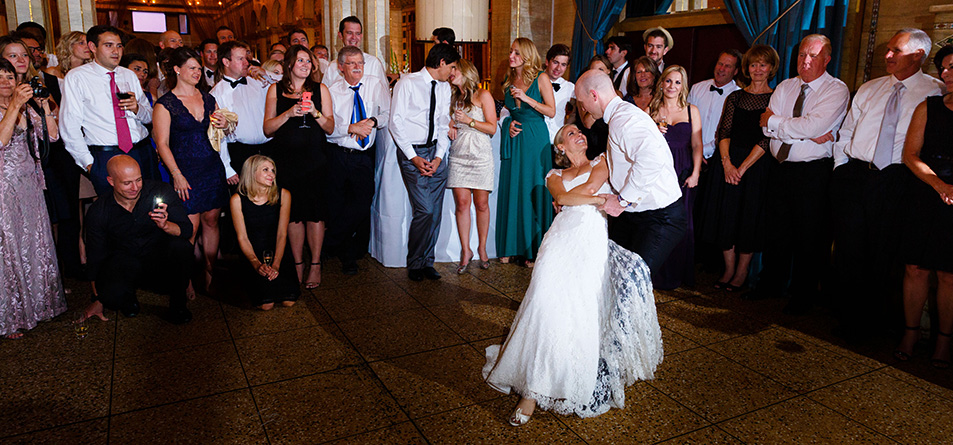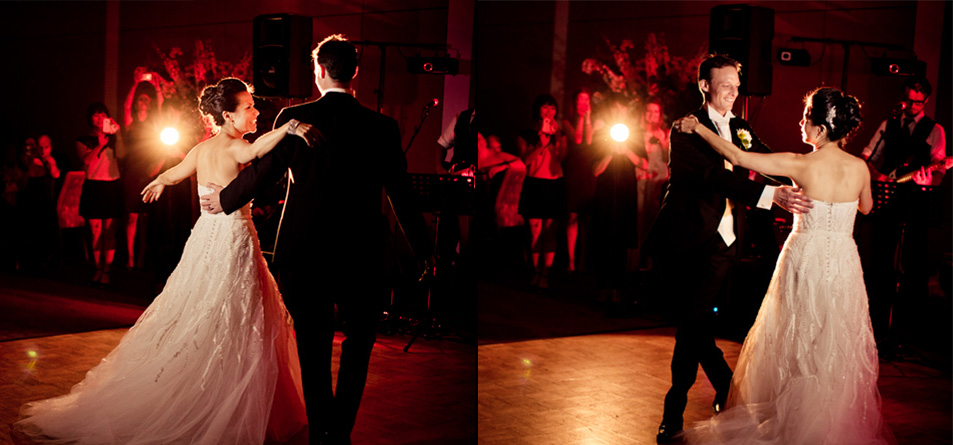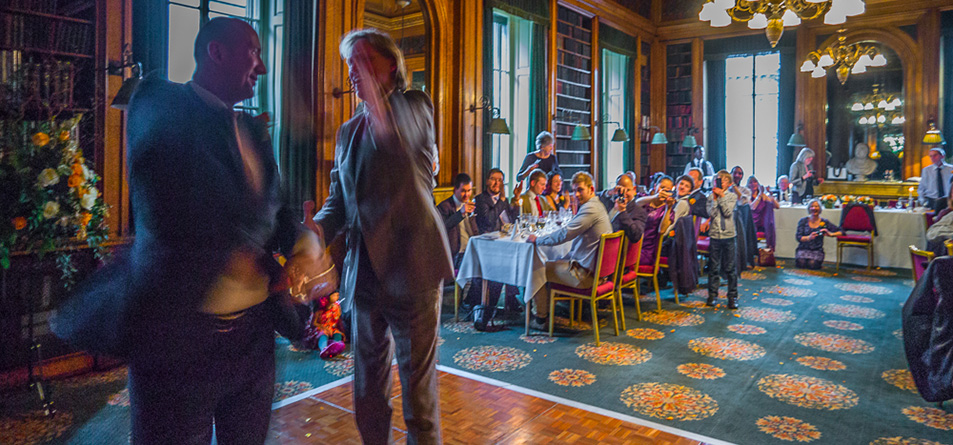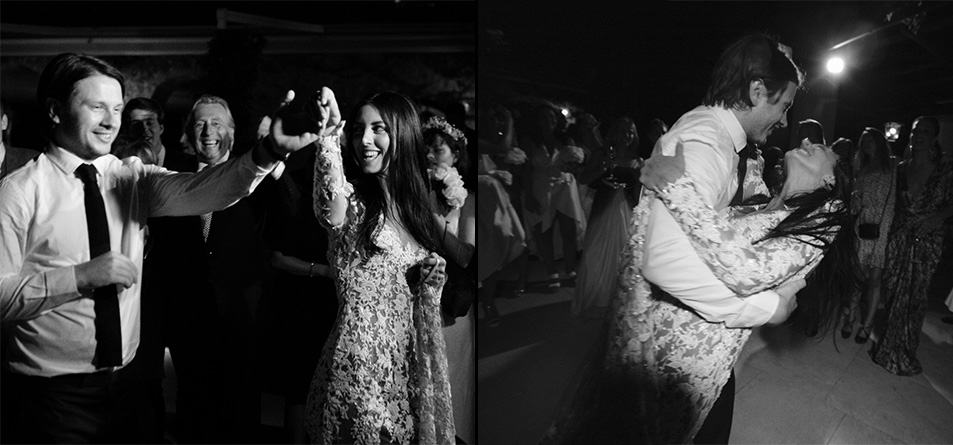 First Dance Lessons to Surprise on Your Big Day with a Simple yet Impressive Wedding Dance
Many Years Later when Looking at Your First Dance Photos You'll Cherish Your Wedding Dance Lessons
Why would any couple go for the "wedding dance shuffle"? You must have seen it: the bride and the groom move their feet and the swing the body aimlessly, and both the couple and the guests, want the wedding dance over as soon as possible.
There's only one chance to make a great impression with your first dance on the big day. You should grab it with both hands because it is a magical moment.
Imagine the flow of the wedding gown on the floor as you walk to the sound of your first dance song, all eyes are on both of you wanting to see your first dance as a married couple. Though only a few minutes long, nothing beats this moment and you should to wow the guests with your wedding dance.
Staged wedding dance routines and choreographies never work. You can tell the couple have had lessons, and if something goes wrong it all goes pear shaped. Keep it simple, short and impressive and get the damn thing out of the way. That is all there is to it.

Preparing for the first dance is not difficult and you can...
Learn to dance with ease and confidence
Dance to your chosen wedding first dance song be it fast or slow
Go for a simple act or a carefully prepared wedding first dancing set of steps. It's all about learning the basics
Start your wedding dance lessons as soon as you possibly can, and here's what you should do to nail your first dance:
Prepare to dance for around two minutes before asking the guests to join you on the floor
Enjoy walking on the floor as your wedding first song is on and you showcase your wedding gown
Aim for a simple yet impressive main first wedding dance made of variations that make you look relaxed and at ease (nothing outlandish or complicated)
Use a smooth finale to end the wedding day dance in style and at a time that feels it is the right moment so...
You can slow down your first dance and make it easy for the guests to join in and start dancing
It doesn't matter if you have danced before or not, or if you have a week, a month or a year before your big day. Even a single wedding dance class can make a massive difference!
Wedding dance lessons can help you a great deal with...

1. Having the right posture, which makes for great photos (look how impressive Sophie's wedding dress is in the photo above)
2. When to look into one another eyes and when to check where you are on the floor
3. How to move gracefully on the floor and build up your wedding first dance smoothly. The first few seconds are crucial as it is when issues, especially with the wedding dress, can happen
4. Ways to use changes in the music to throw in impressive twirls and variations
5. What to do if something goes wrong
6. Tips on how to get your guests excited and get up and dance

Private dance classes help you decide what's best for you
You want your guests to have fun and well-crafted wedding first dances can really get this going. You can achieve a lot by going for wedding dance classes in London and the first dancing class, especially, is crucial. Here's why.
You can make an informed decision as to what works best for your first dance
You will get tailored advice to suit your first dance
You'll be able to see for yourself what dance suits you and shape it to your first dance song
You'll find out what wedding dance lessons package works for you
You can start improving your wedding dance right after your first lesson
Here's what you need to know about booking dance classes to learn to dance for your big day.
When: You can book lessons with us anytime weekdays and weekends, including Sundays. I've booked wedding dancing lessons for couples as early as 6.30am and as late as 11.30pm.
Where: You can have private dance lessons in the privacy of your home, in our dance school or both. Dance studio locations are available in:
Kensington: Earls Court Road, W8
Central London: Blandford Street, W1
North London: Swiss Cottage, NW6
West London: Paddington, W2
First Dance Songs: You can bring your own first dance song or select from more than 288 first dance songs as chosen by couples since 2001
Full Privacy: You can have private dance lessons with no other sessions taking place at the same time as yours which gives you the maximum for your first dance.
Guaranteed Results: One dance teacher will be preparing your first dance from the beginning to the end. You'll learn the dance in half the required time. If you are not happy with the results you'll get your money back, no question asked.
When to Started: For a relaxed and comfortable wedding first dance that you and will treasure forever the sooner you get started the better. Remember to ask to have the lessons with Paul.
Prices & Packages:
Semi Standard 45-minute Lesson £75
Standard 90-minute Session £139
Package 1: Two X Standard Sessions
Package 2: Three X Standard Sessions
Package 3: Four X Standard Sessions (Best Last Minute Dance Package)
Package 4: Five X Standard Sessions
Package 5: Six X Standard Sessions
Each package offers a discount depending on the number of standard sessions it includes.
Call the number at the top of the page or email Paul now to book lessons for your big day: paul@thedanceschool.co.uk

Couples taking individual wedding first dance lessons in Central London

"With our wedding fast approaching there was one thing we overlooked… The first dance! We wanted to learn a simple yet beautiful first dance, something that would impress and surprise our guests. In other words, we wanted to avoid the wedding shuffle. Paul was fantastic! He put us at ease straight way so every lesson was relaxed and became something we looked forward to.

We worked on individual steps, that initially looked complex, then put together a routine that we were both comfortable and confident. Most importantly, it made us look great and I am really looking forward to doing it on the big day! I would absolutely recommend Paul put together your first dance, the lessons are so much fun!"

Melvyn & Ruth

"We wanted to learn a simple first dance routine but were pressed for time, and though we had a song we knew we'd be hopeless without lessons. After an initial lesson, we went for a wedding dance package. Paul was fantastic! He showed us a number of simple moves that made us look great. We loved dancing the routine on our big day and the video was terrific.

I absolutely recommend Paul put together your first dance."

Michelle & Michael

Couples who went for private wedding dance lessons in West London
"So, so, so glad we chose Paul to help us with our first dance! Our wedding was characterised by our first dance and I'm so glad that we took these lessons. Highly, highly recommended!"
Adam & Kim

Couples who booked first dance lessons in North London

"Paul was great fun, dedicated and patient and we recommend him to everyone looking for a wedding dance teacher in London!"

Tim & Sam

"We did not want for a huge crowd to gather round for our first dance for us and while danced an embarrassing wedding shuffle so we found Paul after searching around a bit. The first dance made a huge impact and people talked about it for ages! If you are thinking of doing something special for your big day then you should call Paul."

Mr & Mrs Last


Couples who had wedding dance classes in South West London

"We went for dancing lessons to settle our pre-wedding nerves. Paul put us at ease and taught us a simple and enjoyable first dance. I would recommend him to anyone looking to avoid the awkwardness of the first dance!"
Tom & Jess

"We really recommend these first wedding dance lessons. We are not great dancers and I had never danced the Waltz before. As the wedding day was getting closer and we didn't want to look ridiculous, we decided to take a couple of lessons.
Paul is great. From the first emails he was really interested not only in our own expectations, taste, etc. but also the details (where we were going to dance, type of dress and shoes) so he could adapt better to us in particular.

He really makes you feel confident that you are able to do it. He has a huge experience preparing couples and that helps. We enjoyed very much the 2 lessons we did and it was a special time for us in the hectic weeks just before the wedding.
In the second lesson he recorded our dance, which looked surprisingly nice!"
Crisitna & Matthias

Couples who went for individual wedding dancing lessons from North West London

"Paul taught us our wedding dance.To begin with he asked us lots of questions about the kind of music we would want, the kind of people we are and so on, all of which helped us figure out the dance we wanted to go for. Paul is very good at what he does and tries to understand people very well and provides them feedback and help in a great way.
We loved our lessons with Paul and the best thing for us was to actually have that time to ourselves and do the dance after having been a bit stressed during the wedding planning. It just gets you away from it all for a little bit of time and Paul has been able to create the perfect environment for us and make it very enjoyable. We would certainly recommend Paul!!! "
Solveing & Kenny